"Big 8" Letter Requests Special Education Waivers; Children Put Behind 8 Ball
---
The "Big 8" "are the superintendents who lead the eight largest school divisions in Virginia. . . . [Their] eight school divisions educate approximately 600,000 students in the Commonwealth; spanning Northern Virginia, Richmond and Hampton Roads."
According to Johnna Cossaboon, of Advantus Strategies, the "Big 8" hire contractors or have someone in-house who lobbies on their behalf. While she represents Chesapeake, Loudoun County, and Norfolk Public Schools, she said Bev Lammay reps Henrico, and Fairfax County Public Schools (FCPS) has Mike Molloy on staff, who has been there "forever". She thought, perhaps, 25 years.
FCPS provided a document saved as "Lane Special Ed Letter", in response to a FOIA request. The letter itself lists one waiver after another related to special education, as divisions "try to navigate the fallout from the COVID-19 pandemic."
Instead of requesting more supports to ensure provision of FAPE for students and to help teachers, the letter states, "Our goal is to reduce the administrative burden on special education staff . . . "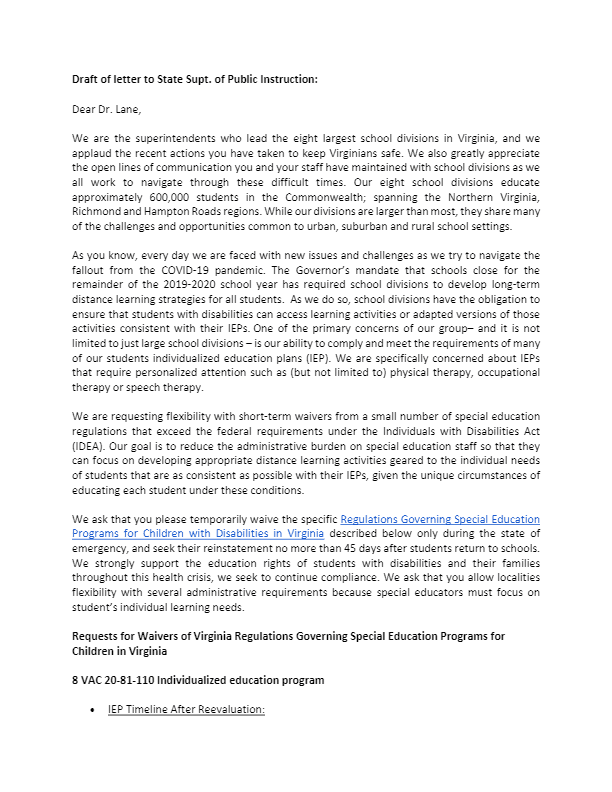 VDOE provided a different "Big 8" letter on Advantus Strategies letterhead, with the names of the eight superintendents and their divisions listed. Cossaboon emailed the letter to VDOE Superintendent James Lane and her name is listed in the metadata as the author.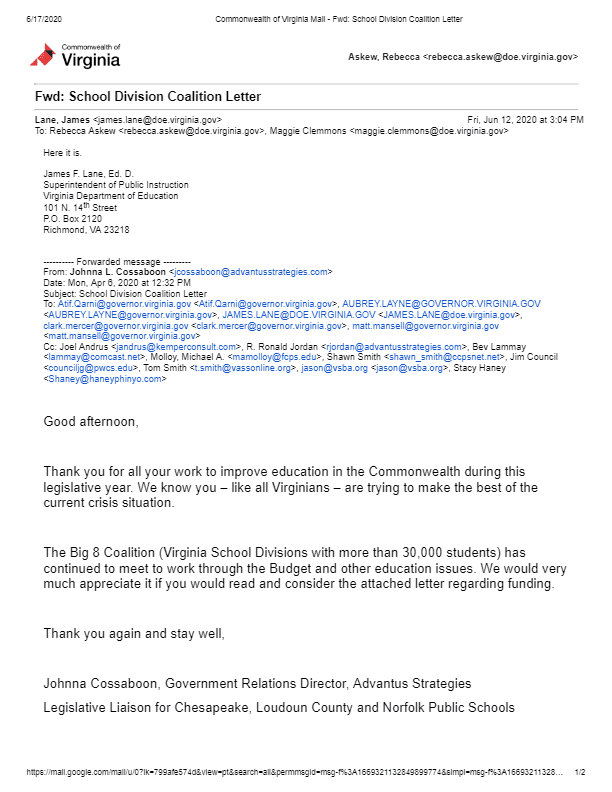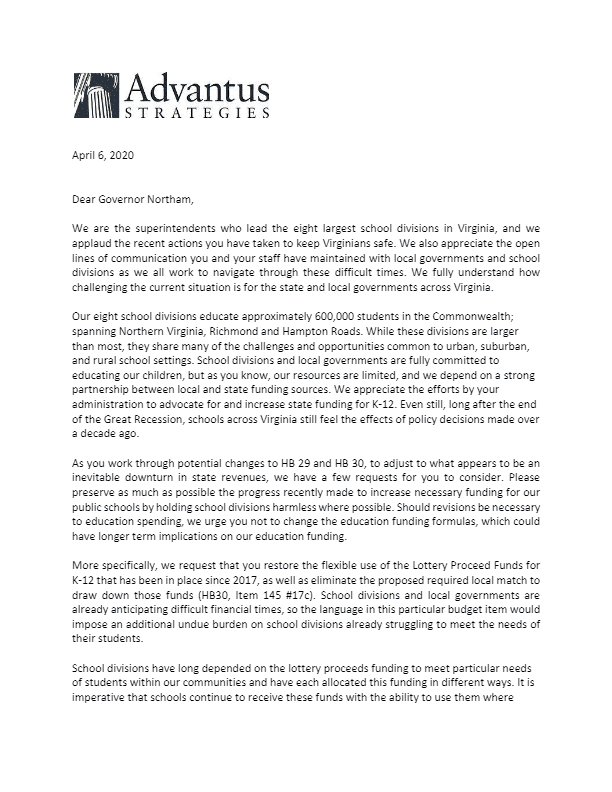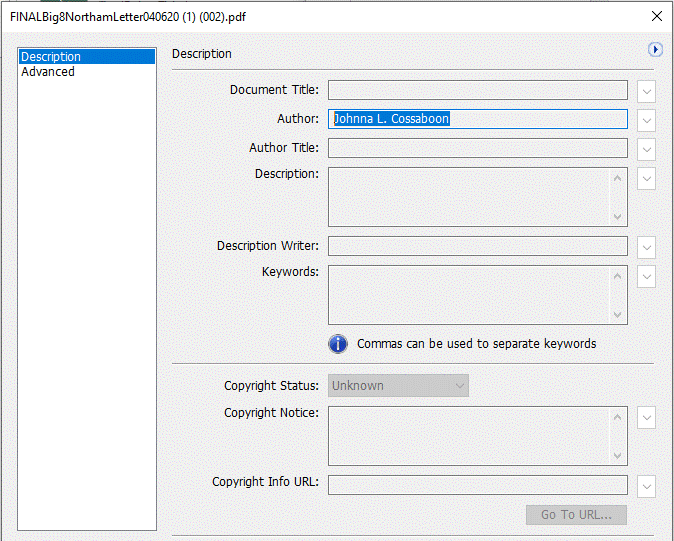 6.18.20, I submitted a FOIA request to FCPS, for "all of Michael Molloy's emails, letters, voice messages, texts, and any unlisted format, for a period of March 1 through today." FCPS responded 6.26.20, stating a $1,382.50 price tag to do the search.
Yet, around the same period, VDOE placed a price tag of about $50 on a FOIA request related to emails that included both Scott Brabrand and James Lane, of which there proved to be many.
I questioned FCPS about their price tag. To date, no response has been provided.
6.22.20, I asked FCPS how it came to have the waiver letter in its possession. To date, no response has been provided.
UPDATE:
7.23.20, FCPS provided an email from Joel Andrus of Kemper Consulting to FCPS staff member Michael Molloy and lobbyists. The letter states:
"Here's the special ed letter we discussed - Johnna has already provided some edits - can you all take a look and let me know your thoughts. Not sure if the proposed language in the budget helps this issue any, but we can discuss."
Andrus' email included the above-referenced letter to Virginia Superintendent of Public Education James Lane, in which multiple waivers related to special education are requested.
This is additional proof that school divisions in Virginia are spending money to lobby against providing the very services that they are mandated by law to provide—services for which there never seems to be enough money.
Irony: They very day Andrus emailed this letter, FCPS experienced its first failure to launch online learning (a.k.a. "distance learning" to FCPS), which led to emails flying between Gov. Cuomo's, Gov. Northam's, VDOE, and FCPS staff members.