In a period of just two weeks, between September 16 and September 30, 2021, Fairfax County School Board (FCSB) racked up legal fees of $116,001.42 with law firm Hunton Andrews Kurth, in relation to one lawsuit that later it tried to make disappear. Matters related to the lawsuit continued into December, to include two hearings and a nonsuit, so the final bill is expected to be in excess of $200,000. (Additional Reading: "Update on Fairfax County School Board's Legal Action Against Parents")
The lawsuit was filed against me and another FCPS (Fairfax County Public Schools) parent after this site published some of FCPS's legal invoices. The published invoices were obtained legally after FCPS released 1,316 pages as part of a Freedom of Information Act (FOIA) response. FCPS later tried to claw back the documents after being made aware it released documents damaging to its reputation. When that didn't work, FCSB filed a lawsuit. (Additional Reading: "Court Transcripts: Fairfax County School Board vs. Tisler, et al.")
After failing to prevail in hearings that took place October 22, 2021, and November 16, 2021, FCSB filed for a nonsuit November 24, 2021, which wipes the lawsuit from the docket, as if it never happened. (Additional Reading: "Victory! Virginia School Board Quietly Abandons Lawsuit Against Parents" and "FCSB Files Motion for Nonsuit after Suing Parents and Failing to Prevail in Court; Judge Signs Order to Nonsuit"}
However, in addition to the defamation of character left in its wake, Hunton Andrews Kurth's invoices are a reminder that the suit did occur. (Additional Reading: "Parents and First Amendment Prevail; Judge Rules Against Fairfax County School Board")
Click on the image below to view the September 2021 invoice in full.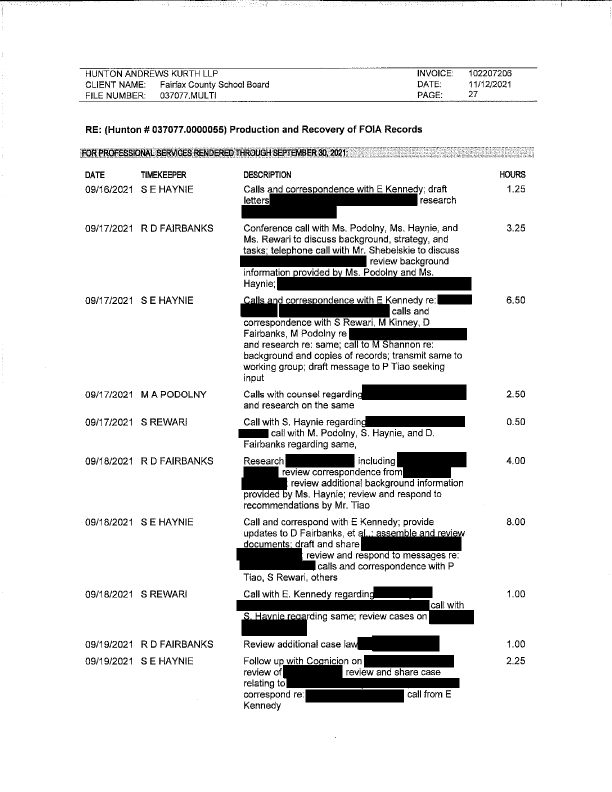 FOIA Request for Invoices
On numerous occasions, a request for invoices related to the case were submitted.
December 16, 2021, FCPS emailed the following:
Due to limited staffing and the amount of time that will be required to process your request, FCPS requires an additional seven working days to respond. Va. Code § 2.2-3704(B)(4). FCPS will respond to your request by or before December 29, 2021.
The invoice provided today is all of nine pages and was issued November 12, 2021, and isn't a full response to the request.
One wonders about FCPS's FOIA office given its proclivity for breaching the privacy of its students and staff, and its failure to follow FOIA-mandated timelines.
When the rest of the invoices are provided by FCPS, they'll be published on this site.
Please join me in asking FCPS to spend less on litigation and more on learning.
There's an easy solution: If you're in compliance of Federal and State laws, litigation is likely to recede. This means less money for Hunton Andrews Kurth, but for everyone other than HAK, that's not a bad thing.