Fairfax County School Board (FCSB) filed a "Motion for Nonsuit" after failing to prevail in its lawsuit against me and another Fairfax County Public Schools (FCPS) parent. December 15, 2021, Judge Richard E. Gardiner signed an "Order to Nonsuit" and the order was submitted to counsels December 22, 2021.
Although the nonsuit removes the suit from the docket—as if it never happened—the suit happened and won't be forgotten. Prior restraint is not legal.
Click on document below to view FCSB's "Motion to Nonsuit" at a larger size.
Click on document below to view "Defendants' Response to Plaintiff's Motion to Nonsuit" at a larger size.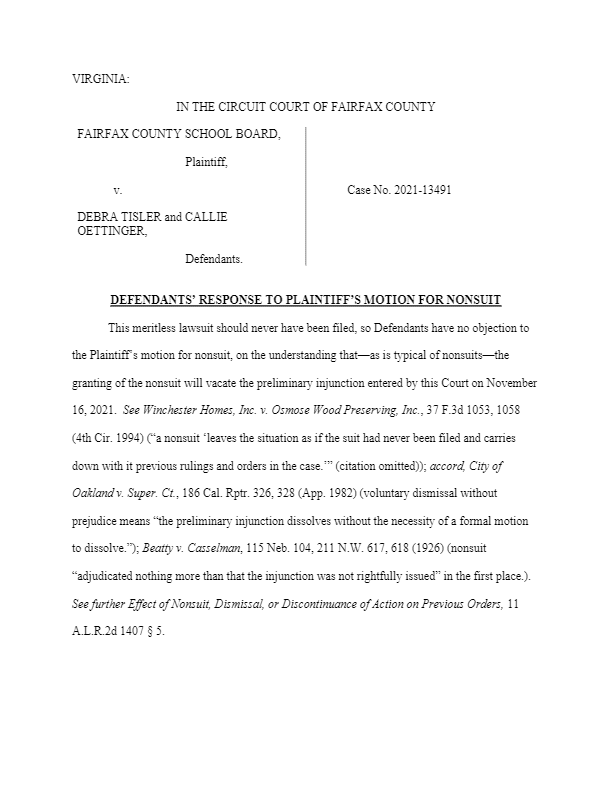 Click on document below to view "Order to Nonsuit" at a larger size.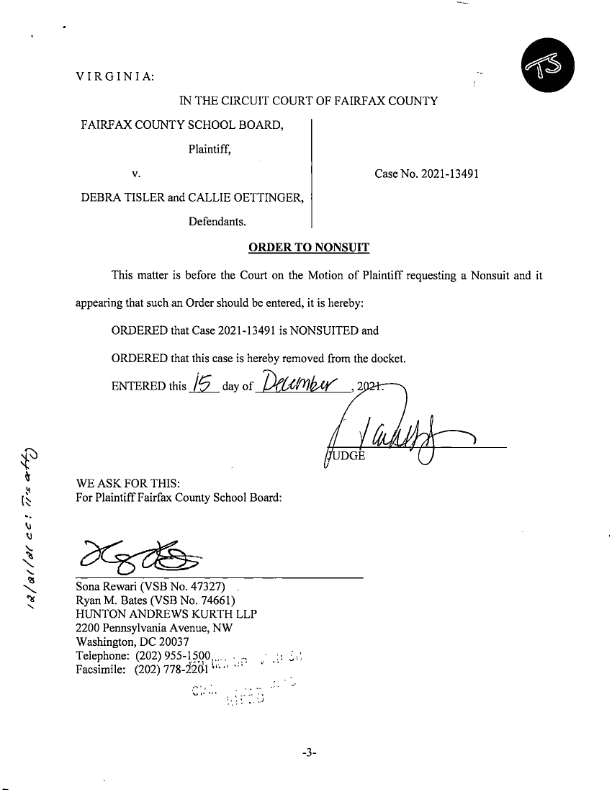 Background
FCPS filed the suit after I published some of its legal invoices to this site.
The invoices were obtained legally after FCPS released 1,316 pages as part of a Freedom of Information Act (FOIA) response. FCPS later tried to claw back the documents after being made aware it released documents damaging to its reputation.
The majority of the documents portray a school system putting lawyers and litigation above learning. For example, they show FCPS has a history of paying over $200,000 every other week to law firms, for high-priced lawyers to do such mundane tasks as writing school newsletters and taking notes at school board meetings.
In addition, the documents indicate FCPS is working with an assistant United States attorney on what appears to be an internal investigation. This investigation is just another in the long list that FCPS has failed to make public. The invoices indicate exorbitant amounts of money were spent investigating Blackboard, the platform FCPS used when it launched its online learning program Spring of 2020; Maribeth Luftglass, the former assistant superintendent for FCPS's department of information technology, who was at the helm when FCPS's online learning program failed spectacularly on numerous occasions; a licensure investigation into Superintendent Scott Brabrand; a mystery investigation titled "Project Spark", which is invoiced separately from other FCPS work that law firm Hunton Andrews Kurth appears to bill every other week; and other investigations that have yet to be shared with the public.
Although the documents published to this site revealed wasteful spending by FCPS and information about its investigations, FCPS led the public to believe that private information related to children and school personnel was published to this site.
FCSB took the same tact when it presented its case in court. It presented to Judge Richard E. Gardiner a school system concerned about the privacy of children and staff as its argument for preventing publication of the documents and for having the documents returned to it. (Additional Reading: "Court Transcripts: Fairfax County School Board vs. Tisler, et al.")
FCSB's counsel didn't mention to Judge Gardiner that FCPS has a long history of breaching the privacy of its students and staff and that it has been investigated and found in noncompliance on numerous occasions by the United States Department of Education (USDOE) Student Privacy Policy Office (SPPO) and the Virginia Department of Education (VDOE). (Additional Reading: "FERPA Violation Report Card: Fairfax County Public Schools")
After going through the 10,000+ additional redactions that FCPS wanted to make to the 1,316-paged FOIA response, Judge Gardiner ruled in favor of the parents instead of FCSB. (Additional Reading: "Parents and First Amendment Prevail; Judge Rules Against Fairfax County School Board")
FCSB's response was to release another statement to the public leading it to believe that private information about children will be published and then file a nonsuit.