April 28, 2022, the Office of Civil Rights (OCR) announced Los Angeles Unified School District (LAUSD) is at fault for civil rights violations and OCR released the resolution reached following its investigation of LAUSD.
This follows OCR's January 12, 2021, announcement that it would investigate LAUSD, Fairfax County Public Schools (FCPS) in Virginia, and Seattle Public Schools.
Among its findings, OCR identified the following failures that occurred during COVID 19-related remote learning:
LAUSD limited the services provided to students with disabilities based on considerations other than the students' individual educational needs.
LAUSD failed to accurately or sufficiently track services provided to students with disabilities.
LAUSD directed district service providers to include attempts to communicate with students and parents—including emails and phone calls—as the provision of services, documenting such on students' service records.
LAUSD informed staff that the district was not responsible for providing compensatory education to students with disabilities who did not receive FAPE during the COVID-19 school closure period because the district was not at fault for the closure.
LAUSD failed to develop and implement a plan adequate to remedy the instances in which students with disabilities were not provided a FAPE during remote learning.
A few specific examples include:
LAUSD's training to service providers stated that "[t]he expectation is not for providers to deliver every minute per FAPE 1 [sic] during COVID-19 school closures, but to document each attempt and contact with the student."
LAUSD tracked services provided to students with IEPs but did not require that the amount of services provided actually match IEPs minute for minute during remote learning. If a student logged in, LAUSD counted it as class time for 1:1 instruction by capturing attendance.
LAUSD did not track instances of implementation issues due to remote learning for students with Section 504 plans and therefore did not know how often this occurred.
LAUSD suspended its practice of providing quarterly updates to parents/guardians.
In addition, according to OCR, LAUSD "created a legally unsupported heightened standard for the assessment of compensatory services . . . limiting the provision of compensatory services to circumstances where the District was at 'fault'" and, as a result, "the District did not offer compensatory services when the District was unable or failed to provide appropriate services to a student with a disability during the COVID-19 pandemic." As of March 2022, documentation that LAUSD provided OCR indicated that LAUSD had yet to conduct "a review of the decisions it previously made for individual students under that legally unsupported heightened standard."
Resolution Agreement
The following is some of what LAUSD agreed to:
LAUSD will designate an administrator to ensure implementation of its agreement with OCR and a plan for compensatory education.
LAUSD's plan for compensatory education "will describe for District staff, students, and parents/guardians the efforts the District will undertake, which support the District's current recoupment or compensatory education determinations for all students with disabilities within the District" and will include criteria for determining provision of FAPE, tracking mechanisms, district staff training and parent/guardian and stakeholder outreach, and reporting requirements.
The IEP and Section 504 teams will document the compensatory education determinations made.
LAUSD will provide training and guidance materials regarding its compensatory education plan, the criteria previously mentioned, and the tracking requirements to all relevant central office, local district, and school site staff who have responsibilities under Section 504 and Title II.
LAUSD will ensure that parents, guardians, and other stakeholders are informed about its compensatory education plan.
Click here to read OCR's press release regarding the LAUSD investigation and resolution.
Click on the image below to read OCR's full April 28, 2022, letter to LAUSD.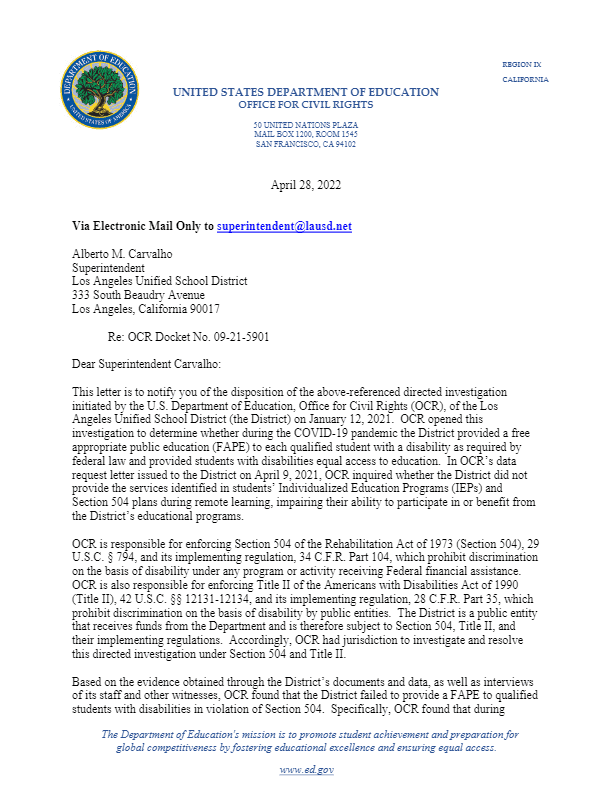 Click on the image below to read LAUSD's full resolution agreement with OCR.