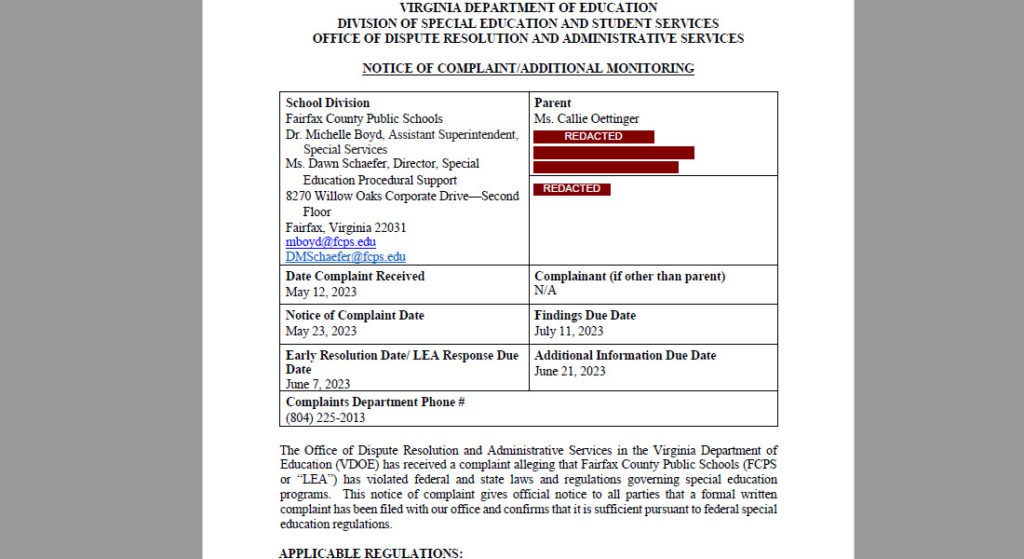 June 1, 2023: Article first published.

July 13, 2023: Article updated to include additional information Complainant submitted to VDOE; FCPS's response to Complaint's state complaint; and the timeline extension letter VDOE issued itself July 10, 2023, one day before VDOE's Letter of Findings was due. VDOE set September 15, 2023, as the new due date.

September 18, 2023: Article updated to include VDOE's second timeline extension letter, in which it changed its timeline from September 15 to October 31, 2023, as well as additional evidence provided to FCPS by Complainant.
May 23, 2023, Virginia Department of Education opened another systemic complaint investigation into Fairfax County Public Schools, in response to a complaint filed May 12, 2023.
The complaint alleges FCPS is at fault for systemic failures to provide FAPE, to include but not limited to failure to address the unique academic, behavioral and functional needs of its students; failures to appropriately place students; and failures to provide services to students who elect to enroll in Honors classes.