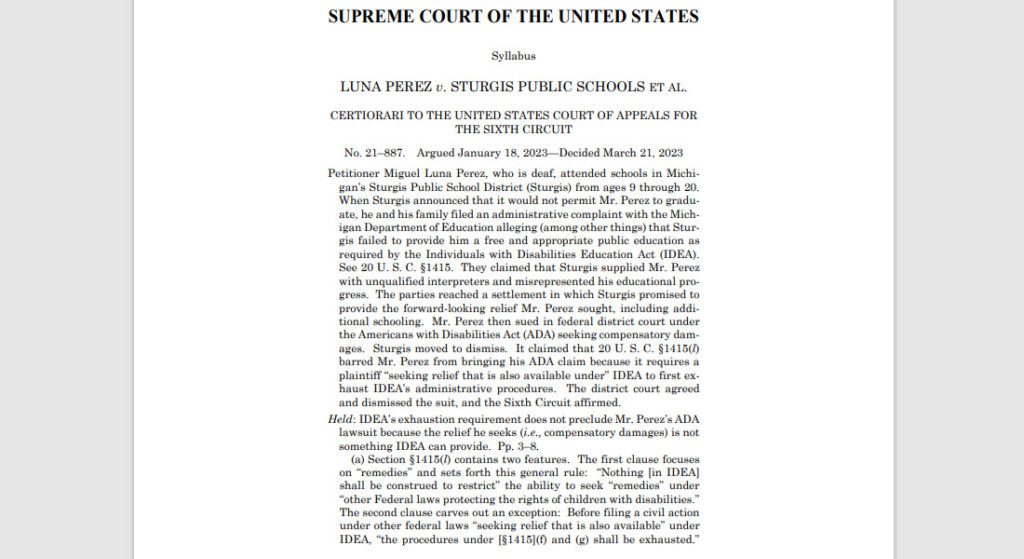 In a rare 9-0 decision, the United States Supreme Court ruled unanimously in favor of Petitioner Miguel Luna Perez: An Americans with Disabilities Act lawsuit seeking compensatory damages for the denial of a free and appropriate education may proceed without exhausting the administrative processes of the Individuals with Disabilities Education Act because the remedy sought is not one IDEA provides.
Today, just two months after oral arguments were presented, Justice Gorsuch delivered the opinion of the Court, which had to decide 1) whether, and in what circumstances, courts should excuse further exhaustion of the Individuals with Disabilities Education Act's (IDEA) administrative proceedings under Section 1415(l) when such proceedings would be futile, and 2) whether Section 1415(l) requires exhaustion of a non-IDEA claim seeking money damages that are not available under the IDEA.
The case was based on the experiences of Miguel Luna Perez, who was denied a Free Appropriate Public Education (FAPE) for years while attending Sturgis (Michigan) Public Schools (SPS). For 12 years, SPS advanced Miguel Luna Perez from grade to grade and inflated his grades to the point he repeatedly made honor roll, even though he couldn't read or write—and then just before graduation told his family he would receive a certificate of completion but not a high school diploma.
Studying case law cited by your State Education Agency (SEA) and Local Education Agency (LEA) in response to parents' state complaints, and studying case law cited by LEAs, LEA lawyers, and hearing officers during due process hearings is a good way to prepare yourself to 1) understand special education law, 2) understand the different ways it can be interpreted and inappropriately manipulated, and 3) how to use special education-related case law to argue your own case.