Today's privacy violations are brought to you by Fairfax County Public Schools' (FCPS) Office of Special Education Procedural Support.
Violation #1
May 6, 2021, Jane Strong, director of the Office of Special Education and Procedural Support, breached a student's privacy when she emailed six documents related to the student to individuals to whom she should not have sent them.
Within about 30 minutes, Jane admitted the privacy violation and asked recipients to "not open those attachments and delete the records."
Disturbing: This isn't the first time someone from Jane's office violated the same student's privacy.
Less than a year ago, FCPS failed to secure private documents when Dawn Schaefer—also from the Office of Special Education Procedural Support—emailed me a due process hearing transcript related to the student whose privacy was breached May 6, 2021, by Jane. (Read "Fairfax County Public Schools, Sands Anderson, and Blankingship & Keith Breach Privacy During Due Process")
During the 2015-17 period, Jane and her office knew privacy violations to be major issues throughout FCPS. In the internal document "Hot Topics", which Jane edited, you'll find the following admissions:
Confidentiality of student records is a significant concern across the division. FCPS
was found out of compliance by VDOE due to a confidentiality breach at
Silverbrook ES, and we anticipate a noncompliant finding by VDOE again in the
pending state complaint regarding Silverbrook and South County MS. . . .

Schools need additional training on confidentiality of student information. While
best practice is reinforced by IT, Division Counsel, and OSEPS, does not seem to
be followed in day-to-day interactions. Additional training will be offered division
wide, including at to Silverbrook and South County MS as part of the state
complaint processcorrective [sic] action. It may make sense to offer training to a wider
audience.
So much for training.
After FCPS provided me an unredacted version of the "Hot Topics" report, it went on to violate the privacy of dozens more students and their families. (And these are just the ones I know about.)
Click on the image below to view it at a larger size.
Violation #2
June 24, 2021, Dawn Azennar, a procedural support liaison who works out of Jane's office, too, sent an email and a letter about a FCPS student to the wrong person (a FCPS parent in this case). Although the student isn't mentioned by name, there's a fair amount of information that would make tracking down the student and family doable. I've deleted the student's birthday and the name of the student's previous school in the document below. *Worrisome: The email and letter read as if the student transferred in from a different state, FCPS didn't request the records previously, and FCPS is now trying to obtain the records without the parents' permission. Why wouldn't FCPS obtain parent permission?
Craziness: This isn't the first time Jane's office has accidentally emailed this same parent. Just over two month's ago Jane's staff did the same thing. In the previous case, Jane's office sent the same parent an internal email in which FCPS admitted fault in relation to an investigation the Office of Civil Rights (OCR) initiated after I filed an OCR complaint. (Read "Office of Civil Rights Opens Investigation of Fairfax County Public Schools – Special Education Action".)
Click on the image below to view it at a larger size.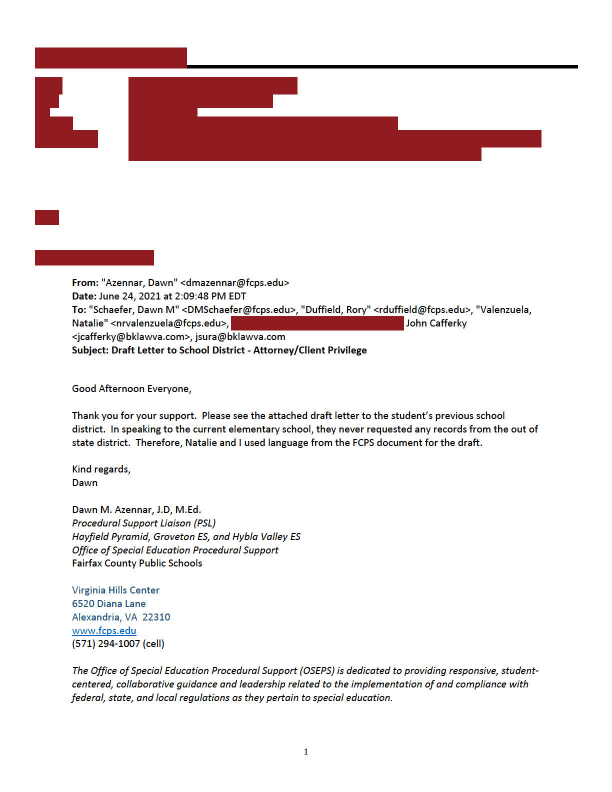 Click on the image below to view it at a larger size.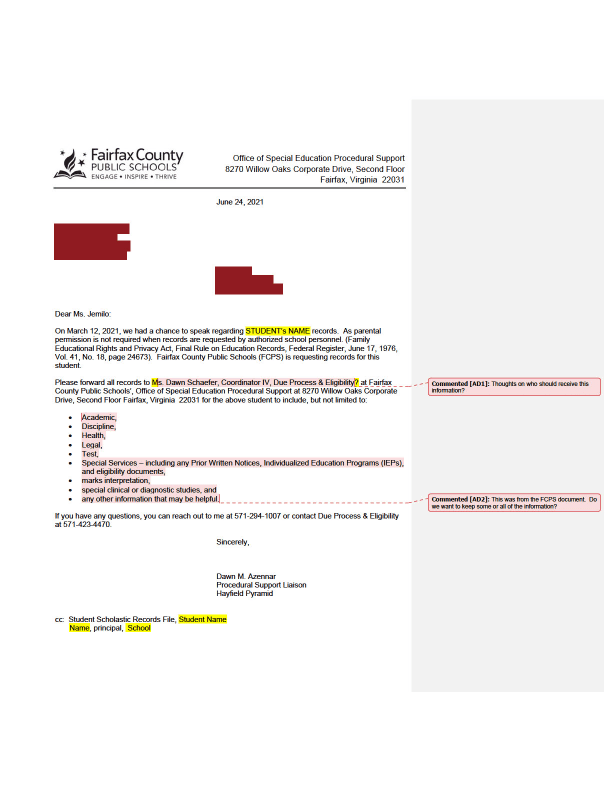 If you're aware of any privacy violations, please let me know and I'll add them to the "FERPA Violation Report Card: Fairfax County Public Schools",
If your child's privacy is breached by FCPS—or whatever school district your child attends—please file a complaint with the FERPA office. Click on this link to access the complaint form.