June 2, 2021, the U.S. Department of Education's (USDOE) Student Privacy Policy Office (SPPO) issued a letter finding Fairfax County Public Schools (FCPS) in noncompliance for another privacy breach. The letter was issued in response to a complaint filed in 2019. The letter states:
"We therefore find the that the District take specific actions, these actions include training staff. Specifically, the District failed to obtain prior written consent before disclosing education records to another parent. . . . The District has required school officials complete a FERPA training to ensure that the scope and limitations of FERPA are adhered to. The District completed such training on November 12, 2019, which satisfies the requirements of this Office. Concluding, this Office has received assurance from the District, therefore, we are closing the investigation as the District has completed the required corrective actions."
Click on the image below to view it at a larger size.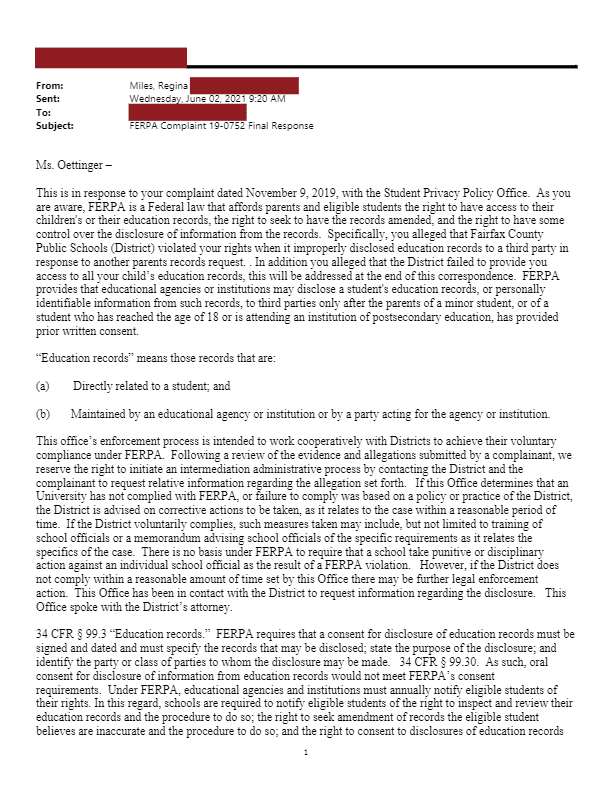 Before issuing the letter, the SPPO advisor spoke with South County High School (SCHS) Principal Gary Morris and Due Process & Eligibility Coordinator Dawn Schaefer on 5.17.21. Per the letter above, she "received assurance from the District".
Four days later, SCHS teacher Tina Wrubluski violated the privacy of numerous students when she shared her computer screen during an IEP meeting. Although numerous people kept trying to obtain her attention, Tina continued working away, making document folders related to specific students available for viewing.
I've made the SPPO advisor aware of the breaches that took place after the 11.12.19 training, to include the breach that occurred four days after she spoke with FCPS on 5.17.21.
If you're aware of any privacy violations, please let me know and I'll add them to the "FERPA Violation Report Card: Fairfax County Public Schools",
If your child's privacy is breached by FCPS—or whatever school district your child attends—please file a complaint with the SPPO office. Click on this link to access the complaint form.
Related Reading: "South County High School Breaches Student Confidentiality Again" and "FERPA Violation Report Card: Fairfax County Public Schools"